Easy Sous Vide Cinnamon Almond Cake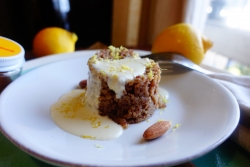 This perfectly portion-controlled cake tastes like a Snickerdoodle and a cinnamon bun joined forces to create a perfectly moist yet fluffy little cake. It also happens to be flourless, made with almond meal, and easily accommodates special diets like Keto and Paleo with the substitutions listed! You could make these for a dinner party, or to have a handful of low-carb treats throughout your week. AND, you could get even a little more creative by using Pumpkin Pie spice, ginger, or Quatre Epices, or more for a "spicier" option!
Author
Nicole Poirier
Chef Nicole is our Content Development Chef at Anova Culinary, devoted to help making your sous vide recipe dreams come true and writing informative blog posts to aid you along the way. She attended culinary school at Ecole Ritz-Escoffier at the Ritz Hotel in Paris, France and worked as a restaurant chef in Rhode Island before becoming an award-winning international yacht chef. Chef Nicole has worked alongside Anova Culinary since our Kickstarter in 2014 and officially joined the team in November, 2016. She has a specialty private event and catering business and and enjoys teaching cooking to clients throughout the Bay Area.
Prep Time: 00:05
Recipe Time: 02:00
Temperature : 185F / 85C
Ingredients
2/3 c/ 65 g almond meal
2 Tablespoons / 20 g granulated sugar/xylitol/monk fruit sweetener/erythritol
1 teaspoon/ 4 g baking powder
1/2 teaspoon / 1 g ground cinnamon
1/8 teaspoon / .5 g cream of tartar
1 large egg
2 Tablespoons water
2 Tablespoons melted butter
1/4 teaspoon vanilla extract
Extra equipment: 4 1/2c/125 ml canning jars + oil/butter for greasing
1/4 c/ 60 ml heavy/single cream
1/4 c/2 oz/~60 g cream cheese or Neufchatel
1 teaspoon fine sugar or sugar substitute
1 lemon
Directions
Set your Anova Precision Cooker to 185ºF/85ºC.
Combine all dry ingredients and blend well with a fork.
Add wet ingredients and mix well until mixture is smooth.
On a flat work surface, grease your jars with cooking spray, butter, or oil.
Distribute the batter evenly between the four jars,
Attach lids, closing only to fingertip tightness.
Submerge the jars in the bath for 2 hours.
Lemony Cream Cheese Frosting
Zest 1 lemon and set aside that zest.
Cut the lemon in half and juice into a small bowl.
Combine cream, cream cheese, lemon juice, and 1 teaspoon of sugar or sugar substitute in a small bowl and whisk until smooth.
Finishing Steps
Remove the jars from the bath.
Either enjoy straight from the jar with a dollop of frosting (or not!) and lemon zest garnish, or slide a knife around the edge of the jar and invert on a small plate.
Drizzle with frosting and garnish with lemon zest. Enjoy!