Sous Vide Dove Breast Herb Salad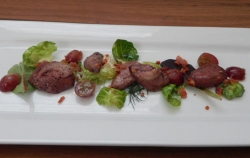 Wild game can be a very difficult thing to cook, or at least to cook well. Many people avoid it because it can be tough, tasteless or even overwhelmed with "gamey" flavor. Wild game is pretty much perfect for sous vide because it is generally very lean. This dish is an amazing blend of sweet, savory, salty, and fresh from the herbs. My dove breast herb salad will be your new favorite quick go-to lunch! Note: Since the breast is so small it won't take long at all to cook to the perfect temperature. Plus the sear we're going to give it at the end will bring it to the right temp.
Author
Mike Castaneda
Christian. Disabled veteran. Father. Named "One of the 10 best cooks in America" by Food Network, World Food Championship Qualified.
Prep Time: 00:25
Recipe Time: 00:05
Temperature : 140F / 60C
Ingredients
3 dove breasts, meat removed from the ribcage
Salt and freshly ground black pepper
2 slices bacon, thinly sliced into lardons
2 Brussels sprouts, trimmed
1/4 cup grapes, halved
1 ounce packaged herb salad mix
Directions
Set the Anova Sous Vide Precision Cooker to 140ºF (60ºC). Bring a small saucepan of water to a rapid boil.
Season the dove breasts with salt and pepper and place in a large zipper lock or vacuum seal bag. Seal the bag using the water immersion technique or a vacuum sealer on the moist setting. Place the bag in the water bath and set the timer for 5 minutes.
Meanwhile, crisp the bacon: Place the bacon in a medium skillet over medium-high heat. Cook until browned and crisp, about 5 minutes. Using a slotted spoon, transfer to a paper towel-lined plate. Reserve the bacon fat in the pan.
Blanch the Brussels sprouts: Add 2 teaspoons salt to the boiling water. Add the Brussels sprouts and blanch until tender, 1 to 2 minutes. Using a slotted spoon, transfer sprouts to an ice bath. Once cooled, separate the leaves and pat dry.
Finishing Steps
When the timer goes off, remove the bag from the water bath. Remove the breasts from the bag and pat very dry with paper towels.
Return the skillet with the bacon fat to medium-high heat. When the fat is shimmering, add the breasts. Sear until golden brown, about 30 seconds per side. Transfer to a serving plate.
Add the Brussels sprout leaves and the grapes to the skillet. Sear until browned, about 1 minute.
To serve, plate herb salad mix and top with dove breast. Add the Brussels sprout leaves and grapes. Garnish with salt and crisped bacon. Serve.