Sous Vide Cauliflower Puree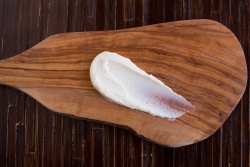 This cauliflower puree is velvety smooth, creamy, and super versatile. I love to use it as a base for my boeuf bourguignon, but really, it goes with anything. Serve it with your favorite roast chicken or steak. Use it as a healthier replacement for mashed potatoes. Because there is no starch in the cauliflower, you can blend or food process the heck out of it without fear of it turning gummy. You'll be amazed at how satisfying this creamy puree can be.
Author
Stephanie Hua
Stephanie is a food writer, photographer, recipe tester & developer based in SF. She received her culinary arts training at the San Francisco Cooking School and is the creator of food blog, Lick My Spoon (a place for all things delicious). Her work has appeared in The Huffington Post, Fodor's Travel, PBS, Serious Eats, SF Weekly, and KQED, among others.
Prep Time: 00:20
Recipe Time: 00:45
Temperature : 185F / 85C
Ingredients
1 head (575 g) cauliflower
1 cup chicken stock
3 tablespoons (46 g) unsalted butter
3/4 teaspoon salt, or to taste
Directions
Set the Anova Sous Vide Precision Cooker to 185ºF (85ºC).
Remove leaves and bottom few inches of the cauliflower core. Cut cauliflower into small 1/4-inch-thick slices.
Place the cauliflower, chicken stock, and butter in a large zipper lock or vacuum seal bag. Seal the bag using the water immersion technique or a vacuum sealer on the moist setting. Place in the water bath and set the timer for 45 minutes.
Finishing Steps
When the timer goes off, remove the bag from the water bath. Strain the contents of the bag through a fine-mesh strainer set over a large bowl. Reserve the cooking liquid.
Transfer strained cauliflower to a blender. Puree until smooth, adding cooking liquid as needed to thin. (I use about 1/4 cup.) The puree should be looser than mashed potatoes. Season to taste with salt and serve.