Basic Sous Vide Flank Steak Salad with Best Red Wine Vinaigrette EVER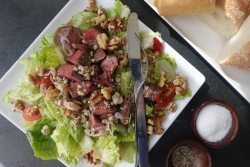 Steak and blue cheese are a fantastic and well-known combination. Add a handful of toasted walnuts, crisp lettuce, bright veggies, the Best Red Wine Vinaigrette Ever, maybe some crusty French bread, and you have one heck of a filling and delicious meal!
Author
Nicole Poirier
Chef Nicole is our Content Development Chef at Anova Culinary, devoted to help making your sous vide recipe dreams come true and writing informative blog posts to aid you along the way. She attended culinary school at Ecole Ritz-Escoffier at the Ritz Hotel in Paris, France and worked as a restaurant chef in Rhode Island before becoming an award-winning international yacht chef. Chef Nicole has worked alongside Anova Culinary since our Kickstarter in 2014 and officially joined the team in November, 2016. She has a specialty private event and catering business and and enjoys teaching cooking to clients throughout the Bay Area.
Prep Time: 00:25
Recipe Time: 01:30
Temperature : 131F / 55C
Ingredients
8 oz/225 g flank steak
1 1/2 Romaine hearts or an entire head of Romaine, arugula is also a delicious choice
1/2 c halved grape/cherry tomatoes
1/2 c/55 g walnuts or walnut pieces
2 Tablespoons shaved shallots
1/4 c blue cheese crumbles
2 cloves garlic, minced
2 teaspoons salt
2 Tablespoons red wine vinegar
3 Tablespoons Extra Virgin Olive Oil
1/4 teaspoon salt
1/4 teaspoon pepper
1/4 teaspoon garlic powder
Directions
Set your Anova Precision Cooker to 131ºF/55ºC.
Liberally season both sides of your flanks steak with salt, pepper, and garlic powder. You are welcome to use more or less of any of these ingredients to your taste.
Use the immersion method to release as much air as possible from the bag and seal.
Place into the heated bath and set the timer for 90 minutes.
Steak Finishing Steps
Remove from the bath and pat dry with paper towel or kitchen cloth.
Sear as desired. We used a cast iron pan brushed with 1 Tablespoon avocado oil.
Slice against the grain to optimize tenderness, then cut in a perpendicular fashion to make bite-size pieces.
Salad Preparation Steps
Heat oven or toaster oven to 400ºF/205ºC to toast walnuts.
Place walnuts on a baking sheet or pie tin, place in heated oven, and set timer for 10 minutes.
Tear the Romaine into bite-size pieces and divide between two plates.
Place steak bites on top of the Romaine.
Divvy the tomatoes halves, shallots, and blue cheese between the plates. Set aside.
Remove the nuts from the oven and allow to cool while you make the dressing.
Combine the finely minced garlic and teaspoons of salt (one teaspoon per clove if you want to make larger amounts of this dressing) in a small bowl and mash with a fork or the back of a spoon to make a paste. This is even easier with a mortar & pestle if you have one handy.
Add the oil and vinegar to the paste and whisk with your fork until emulsified.
Sprinkle the cooled walnuts on top of the salads and then divide the dressing between the two.
Enjoy!